Regular price
Sale price
$125.00
Unit price
per
Sale
Sold out
POWER CORD AND PLUG, ELECTRICAL, 110V
All sales final. No returns.
View full details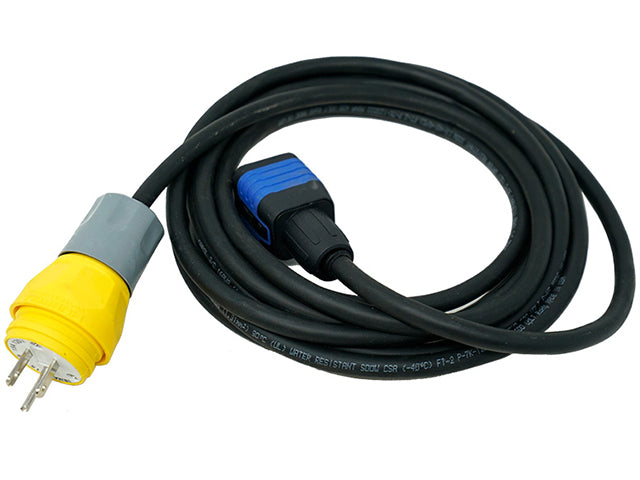 INDUSTRY LEADERS TRUST IN COLD JET
Spec Sheet

Download the IceRocket PLT spec sheet below.

Download

Quick Start Guide

Learn more about proper setup, system requirements, and potential ROI for automotive detailers.

Download

Detailing Videos

Check out our YouTube channel to see the capabilities of dry ice blasting for automotive detailers.

Watch Now
WHAT WE PROVIDE
DRY ICE BLASTING PACKAGE

IceRocket PLT Dry Ice Blaster
1/2" Compact Applicator
1 blasting nozzle
16ft / 5m Blast hose
32ft / 10m Air supply hose
PPE Safety Kit
SERVICE & SUPPORT

Quality assurance purchasing from the OEM and global leader in dry ice technology
Decades of dry ice technology innovation
Connection with local-to-you dry ice suppliers
Dedicated service team in your region
Extensive documentation such as operator manuals, training videos, etc.
1 year limited warranty
ADD-ONS

Spare parts kit for the unexpected breakdown (...it happens to the best of us)
Extensive inventory offering hundreds of nozzle and applicator configurations
Cold Jet CONNECT - our analytical platform for better reporting and tracking of jobs
Extended product warranty (up to 3 years)
Personalized, on-site training from a Cold Jet dry ice blasting expert
Should your dry ice consumption justify it, low-volume pelletizers
WHAT YOU NEED
AIR REQUIREMENTS

Quality air is essential for achieving optimal performance from your dry ice blaster. This is why we recommend a shop air compressor, air treatment, and a sufficiently sized air supply line. 

Air Compressor - we recommend a 15HP rotary screw air compressor, minimum, with a storage tank.
Air Treatment - dry air is a must. Dry air keeps the dry ice from clumping and clogging in the blast hose. We recommend a refrigerant dryer (sized to match HP of compressor), desiccant air dryer, water separator, or one of our after coolers. 
Air Supply line - the air supply line requirements will vary depending on which dry ice blaster you purchase from Cold Jet. Be sure to check the product specifications, but our IceRocket blasters require a 3/4" air supply line. 
DRY ICE SUPPLIER

As the industry leader in dry ice technologies, Cold Jet will put you in direct contact with a local-to-you dry ice supplier no matter where you are. Cold Jet also manufacturers and sells pelletizers - machines that produce solid-state dry ice from liquid CO2 - should your consumption of dry ice justify making it in house.
CAR LIFT (OPTIONAL)

While it is not required, getting to the undercarriage would be pretty difficult without one. Any substantial 2- or 4-post lift will work.
NO WATER

NO CHEMICALS

NO DAMAGE
USER FRIENDLY CONTROLS
The IceRocket PLT offers basic controls that provides minimal learning curve. We always suggest starting low (low pressure / low feed rate) and working your way up.
Buy now
HEAVY DUTY DESIGN
Our machines have been engineered with the toughest applications in mind. That's why we use the most quality parts that are built to last.
Buy now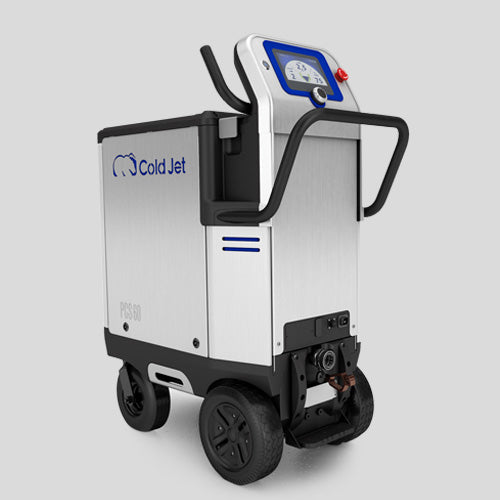 COMMITMENT OF COLD JET
Cold Jet is the industry leader and innovator in dry ice technologies. With over 30 years of experience, you know you are getting the best machine money can buy.
LEARN MORE
ALL ABOUT DRY ICE
What is dry ice blasting?

Dry ice blasting, also called dry ice cleaning, is an environmentally sustainable cleaning and surface preparation technique. Dry ice blasting uses recycled solid carbon dioxide (CO2) pellets or MicroParticles, which are blasted at supersonic speeds and sublimate on impact, lifting dirt and contaminants off the underlying substrate. Dry ice cleaning is non-abrasive, non-conductive, non-toxic, and non-flammable.  It is also chemical free, water free and does not create secondary waste streams.
How do dry ice blasters work?

Dry ice blasters blast carbon dioxide pellets or MicroParticles at supersonic speeds using compressed air. These pellets/particles then sublimate on impact and lift dirt and contaminants off the underlying substrate.
What is dry ice blasting used for?

Dry ice blasting is a non-destructive solution for cleaning, surface preparation, and parts finishing. Dry ice blasting does not require water or cleaning chemicals and does not produce secondary waste.  Dry ice blasting (cleaning) can be used in industries like automotive restoration, aerospace & aviation, automotive manufacturing, contract cleaning, food & beverage, plastics & composites, historical restoration, textiles, and more.

Common applications within these industries include adhesive removal, coatings & corrosion removal, composite tool cleaning, remediation, parts finishing, and surface preparation. As you can see, dry ice blasting can be used for a wide range of applications.
What are my options for dry ice blasting equipment?

Cold Jet offers our top-of-the-line dry ice blasting equipment both new and used. As the OEM, you can be sure that you're receiving the best equipment and the customer service/support you deserve. Click here to learn more about our buying options.
Why would I choose dry ice blasting over another detailing method?

Dry ice cleaning offers a non-toxic, environmentally sustainable alternative to traditional cleaning methods that does not create secondary waste in the cleaning process, does not require chemicals, and does not use valuable and expensive water in the cleaning process.  It can also reduce time and labor costs when compared to other methods.
Is dry ice blasting dangerous?

Because dry ice blasting involves the use of dry ice, there are certain safety precautions that should be followed to ensure all personnel are safe. Some key precautions include:

Ensuring proper ventilation
Limiting exposure
Identifying and labeling areas where it is possible for CO2 to accumulate
Wearing and utilizing proper PPE such as gloves, eyewear, and tongs

Dry ice blasting is not inherently dangerous, but there are safety precautions one should always follow. To learn more about CO2 and dry ice safety, click here.
How much does dry ice cleaning cost?

Dry ice blasters range in price from $13k to $50k USD. Speak to a sales associate today for a more tailored quote.